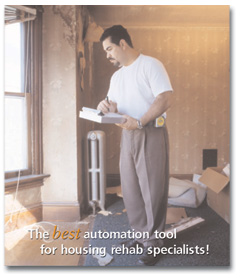 With less staff and more work, your housing rehabilitation team is working hard to be as efficient as possible. Achieve that efficiency with Housing Developer Pro.


What is HDP?

Housing Developer Pro (HDP) is project management software created specifically for housing rehabilitation projects.

HDP is the software tool of choice for non-profit housing development corporations and city and county regional government housing departments who administer Single Family and Multi-Family housing rehabilitation programs or community development efforts, mostly under HUD funding.

What can HDP do for me?

HDP creates written specifications and cost estimates, manages bids and contracts, tracks construction draws and change orders, and generates reports for each step of the rehab project. Automate repetitive tasks with HDP:
Use customizable paper Checklists or a mobile Tablet PC to accomplish your housing rehabilitation inspections efficiently
Modify your Unit Cost data and specifications; keep your spec costs updated by using our Spec Cost Update tool.
Work write-up, cost estimate, and bid documents are generated for you based on your inspection information
Track Bids and Contracts; Distribute requests for bids electronically and manage bidding through HDP Online Bidding
Manage project Draws and create Change Orders
Customize HDP so that it reflects the needs of your rehabilitation clients, market, programs, and housing stock
HDP contains a Library of Specifications with more than 2,000 pre-written and field-tested specifications for rehabilitation, from Green practices to accessibility issues to addressing lead-based paint. The Library of Specs includes green rehab specs from Enterprise Green Communities.
Become part of the growing community of housing rehabilitation practitioners that use Housing Developer Pro to improve and standardize their rehab systems and documentation.
Download a free, fully-functioning 30-day trial

Housing Developer Pro® 4 is a derivative of an earlier version of Housing Developer Pro® 2.0 developed by Enterprise Community Partners, Inc.